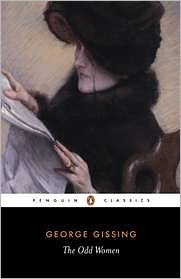 We'd had this on the syllabus for the Victorian Literature course in PGI, and most of my classmates didn't read it, choosing to do Dickens' Bleak House instead, and the few that did read it, didn't like it. I didn't love this book but I liked it, and did think it was very intelligently written.
The Odd Women was striking among all the Victorian literature I've read, because it's one of the earliest books to discuss feminist ideals, and has very far-reaching thoughts on marriage and relationships. If you take into account the fact that it was written in 1893, it's amazing that a lot of what the book talks about is extremely relevant even today.
For those who can get through the rather slow pace and the typical Victorian style, this book is a good read.